Suffering by the loss of their various attachments, six characters slip further and further into their own fractured realities amidst the vibrancy of Austin, Texas.

The Story of Six Tusks had a staged workshop a few years ago in Austin, Texas as a stepping stone towards building interest and financial backing for its screen adaptation. The project is currently "on hold" as writer Dannie Snyder finishes her Master's in Munich. Her 2020 hope is to revisit the script and to start pitching it to producers, connecting the performers from the original staged reading to the studios.
STAGED WORKSHOP from FEBRUARY 26, 2015 at THE NORTH DOOR in Austin, Texas
Co-Directed by Dannie Snyder & Kyle Zamcheck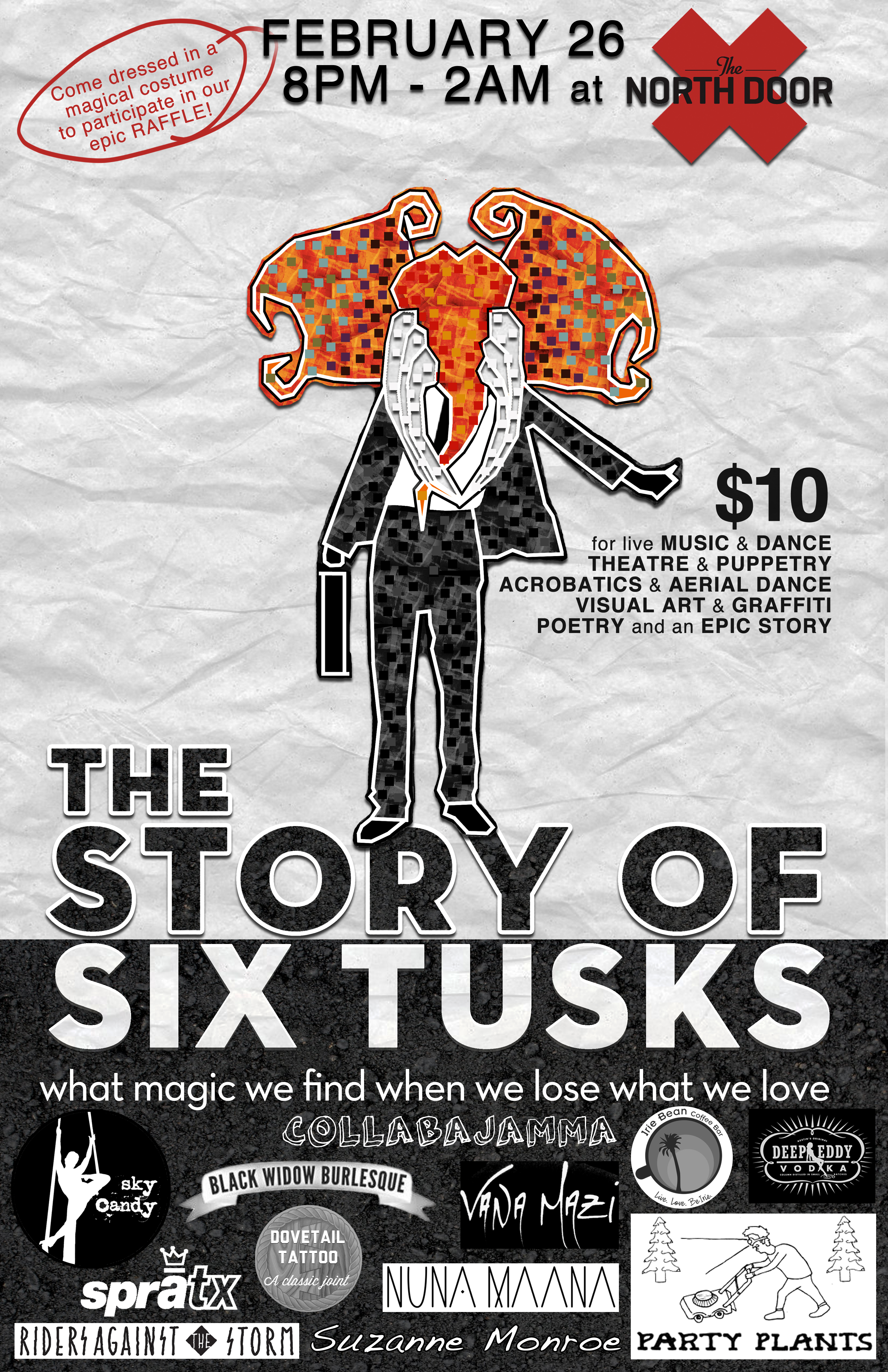 SYNOPSIS
The Story of Six Tusks is a drama, comedy… music, dance… piece of poetry, an adult fairy tale… and much more.  Set in present day Austin, Texas, the story follows six diverse characters all suffering from their attachments and desires. These attachments and desires manifest in numerous forms from materialism to addictions, a young couple breaks up, an old man's dog dies, a teenager leaves rehab, a man loses his retirement plan, a little boy prepares for death, and a wealthy woman searches for a painting of an elephant with six tusks… Unable to accept their sudden losses, these characters' realities crack open, letting their wildly growing imaginations push through. A red sweater frays into a violent, chaotic web as a lover submits herself, her veins and heart, made of wet yarn, feeding into her partner's entanglement. A gold urn of a sleeping dog with angelic wings comes to life.  Dark, abstract tattoos sprout from a teenager's skin as her wooden gauge earrings expand and weave through her hair like a crown. Office documents transform into extraordinary, exotic birds. A man with the head of an elephant visits a woman in her sleep.  The piece is inspired by the vibrancy of Austin; including local music, dance, poetry, tattoos, visual art graffiti, food, puppetry, and so much more.
MISSION
Written by Dannie Snyder, Founder & President of LIV creations LLC 
Festivals in Austin, Texas attract people from all over the world; however, there is so much astonishing art available to see. How can anyone see it all in one weekend?!  We want to create a feature film that showcases the very best of Austin artists so that people from all over the world can feel as inspired as we do. First and foremost, our mission is to tighten and celebrate this artistic community.
Directors Dannie Snyder and Kyle Zamcheck invited well-known and up-and-coming artists who they considered to be the artistic Austin vanguard to participate in our epic event and film. If you would like to recommend an artist, please feel free to email us at info@LIVcreations.com.
First, we hosted the party of the century, a staged adaptation of the screenplay at The North Door on February 26th, 2015.  From 8pm to 2am, the extravaganza consisted of much more than just actors.  Essentially, we took our 1.5 hour long screenplay and stretched it out over six hours with live performances of artists who will be featured in the film; ranging from poets, visual artists, puppeteers, and the list goes on.  For example, our film will have an awesome soundtrack featuring a variety of musicians.  Where each band will have only one song featured in the film, for those bands who were able to participate in the live event, we allowed them to play anywhere between a 15-45 minute set.  This celebration kicked off the production of the feature film by giving us the opportunity to test out our theatrical elements.
LIV creations seeks to tighten and celebrate the artistic community, while strengthening its economy by paying every artist fairly for his/her contribution.  Austin is definitively an awesome place. Don't believe us? This is unanimously supported by statistics that show more than 100+ people moving here each and every day!  As the number one fastest growing city in America, you can bet we're excited about the city's potential. However, from rising property taxes to rental fees, we're also saddened by the number of artists who are gradually moving out of this city due to their inability to keep up with the increasing economic demands.  We're afraid of losing our best artists.  So we want to strengthen the economy, while also showing Austin that ART is an integral part of what makes Austin awesome!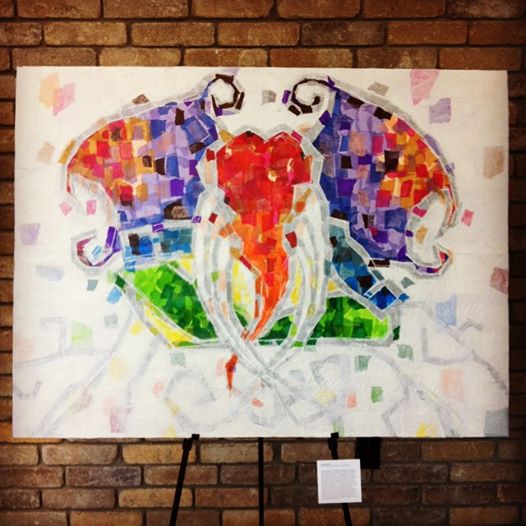 THE DIRECTORS' CONCEPT

This piece of artwork above was featured in the 2014 East Austin Studio Tour. The bio tacked onto the easel reads: 
"Artist Dannie Snyder is a filmmaker currently in pre-production for her next feature film, THE STORY OF SIX TUSKS. The inciting incident of the script is when this piece of artwork is carelessly lost. THE STORY OF SIX TUSKS echoes the tale of Chaddanta, the Buddha incarnated white elephant that visited Queen Maya in her dreams the night she was impregnated with her future son, Siddharta. Chaddanta lead thousands of animals and had miraculous powers. He had six tusks, but, one day, he helped a hunter cut them off. When Chaddanta lost his tusks, he fell dead, but he did not suffer…"  
Although Buddhism plays a large role in the story, Snyder does not consider it a religious piece.  Inspired by these stories, she views religious texts as some of the most magical stories in the world, all of which try to shed light on the meaning of life.
"What drew me to creating this piece was Buddha's teaching that suffering is caused by desire and attachment.  I'll fully admit that, like most Americans, this is a lesson I most likely will never fully accept, nor achieve.  However, in trying, I have recognized that the opposition to desire and attachment is compassion.  In other words, compassion is the meaning of life.  Thus, my goal here is to ask audiences: How can we strive to relinquish and diminish our desires and attachments, and increase and promote compassion?"

-Dannie Snyder
Ironically, while researching Buddhism for this script, her personal life took a dramatic turn.  "It felt as if Buddha was testing me," she says.  "My boyfriend at the time threatened me and, as I sought a safe place to live, he stole thousands of dollars of my film and music equipment.  I felt like tattooing the Dalai Llama's words across my heart, 'What is the compassionate choice?'"  Even after discovering the depth of deception her partner had wreaked— a web of lies covering heroin and other life altering addictions— she continued to walk the compassionate route, however bleak and unsupported that road felt.  "But in the end, I found a wonderful place to live, all of my valuable possessions restored, and new, equally compassionate friends to support me."  Unlike the classic Hollywood ending, her relationship ended with many things unanswered and weighted by a new pain.  She still wonders where her ex-partner is and, sometimes, in that human way we all do, still cries for him.  "Not because I miss him, but because I sometimes wish I could take on all of his suffering so that he may find hope."  It was a hopeful ending.  And this is the emotion she wants audiences leaving the cinema with.
When she describes the potential impact of her piece, she is careful to use the word "inspire" over "change" because, as any good artist knows, you cannot force transformation.  You can only inspire it.  Story always comes first, but spectacle is the next step towards entertaining.  To elaborate:  In The Story of Six Tusks, the characters may seem rather ordinary on the surface, but their desires and attachments are rather quirky.  Each character is obsessed with something.  Even more so, they are increasingly obsessed with the idea of what that something could be, their imaginations growing more and more out of control, taking their quirks to a whole new bizarre level.  The characters' desires and attachments spark our attention, then how the characters' imaginations grow and get out of hand is what entertains us.  Those desires and attachments include the past/future, material things, people, work/play, and emotions.
In the beginning, each character is suffering from having recently lost one of their passions.  Sara's story is central to the narrative as she leaves her life of wealth and beauty, journeying through her city of Austin, the #1 growing city in America, just as the Buddha ventured from his palace to discover suffering, the sick, aged, and dying, as well as an ascetic. The character Keenan, a young boy living with cancer, fully embodies the sick, the process of aging, coping with death, and abstinence, but is the only character in the film who is not suffering.  By the time Sara meets Keenan, she has lost almost all hope in discovering any meaning, having learned from the other characters:  If too much of something causes suffering… or even the mere idea of something in its absence causes suffering… or if its not everlasting and therefore causes suffering…  or if you can easily recreate it or sell it and it causes suffering if you do not own it… it is meaningless.  Through compassion Keenan is able to assure Sara of the meaning of life and help her to see that she gave something to each character: love and the relief of fearful situations, Buddhism's two main acts of giving.
The Story of Six Tusks is a highly sensory piece where spectacle is generated through puppetry, costumes/make-up, visual art, dance, projections, and much more.  In regards to the film specifically, there will be no computer graphics.  In other words, the characters' imaginations are created by the materials within their space, so Snyder and Zamcheck do not try to trick the audience into believing these visions are based in reality.  The Directors are even straying away from using stop motion or animation, choosing to focus on how the imaginations can be created through live special effects. At LIV creations, they are examining the ways in which a film can have theatrical elements, particularly how a film can take advantage of being a live experience and, thus, more interactive (to read more, visit our ABOUT page).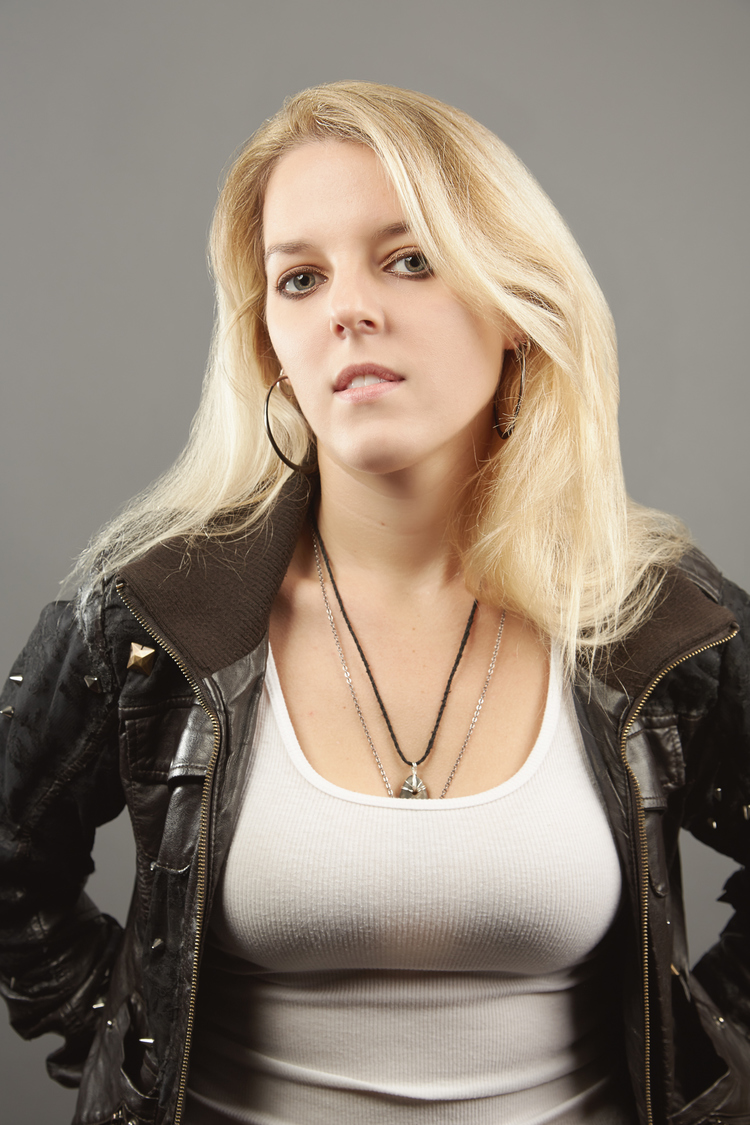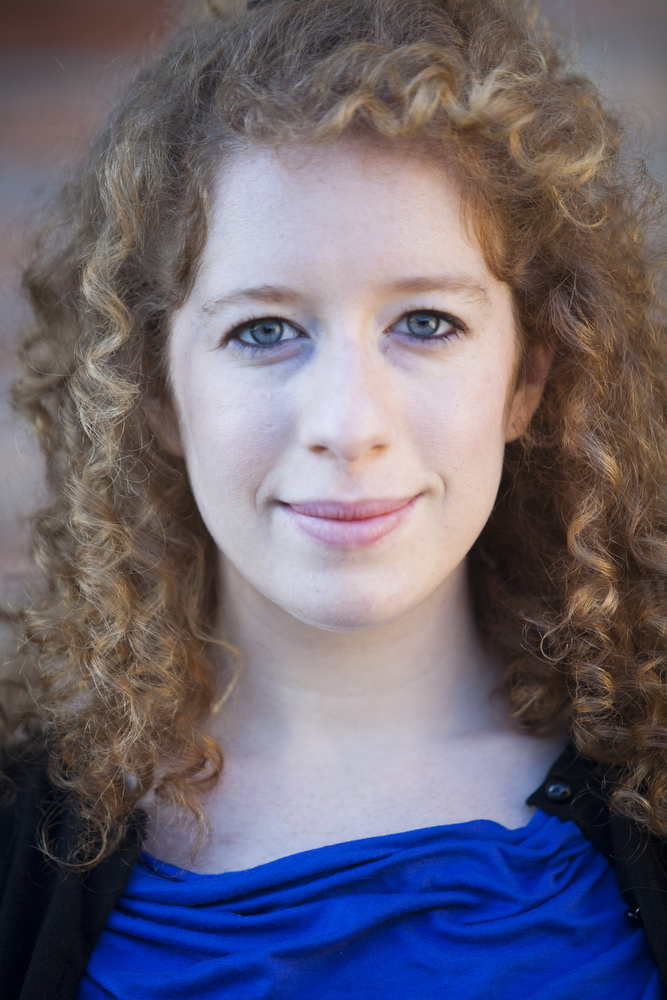 Dannie Snyder & Kyle Zamcheck (left to right)
ABOUT THE DIRECTORS 
Dannie Snyder does not consider herself a religious person, but considers herself a voice for the Gods.  Art is the only religion she knows, and be it theatre, film, music, or even visual art…  She is a storyteller above all.  Pulling from Joseph Campbell's Power of Myth to Elizabeth Gilbert's Elusive Creative Genius, she believes her purpose in life is to venture into unknown realms, absorb those magical energies and bring them back to the people through transformative stories.  She likes to refer to these unknown realms as the Maybe.
"It all exists in this great big stew in my head, because any story can go in any direction.  It's not what you write, it's what you choose…  It's like the ideas are fluctuating in this great big quantum state of Maybe.  The choices look easy when recounted later, but that's hindsight.  When nothing is real and nothing is fixed, it can go anywhere.  The Maybe is a hell of a place to live.  As well as being the best place in the world."

-Russel T. Davies, writer of Doctor Who
In Austin in 2014, Snyder released the feature film The Long-Term Side Effect, which she produced, wrote, directed, shot, and composed the music for.  (It was recently nominated for BEST FILM, BEST SCREENPLAY, and BEST DIRECTOR at the IndieCapitol Awards in Washington DC.)  This same year, she also directed This is Our Youth at The Off Center in Austin, Texas, which was listed in the TOP 10 DUOS & TRIOS of 2014 by Austin Chronicle and nominated for Best Ensemble in 2014-15 Austin Critics Table Awards .
"Director Dannie Snyder has done especially fine work here. The production's vision is cohesive, its moments always motivated. Snyder has seen to it that the details aren't left behind and that the big picture remains fully intact."

-Adam Roberts, Austin Chronicle
Kyle Zamcheck weaves together multi-media and live performance to create fully-realized theatrical installations, making her a perfect addition to the LIV creations team.  She has been creating artistic chaos on the East Coast and abroad, settling into Austin as co-founder and co-artistic director of Lipschtick Collective (Austin Chronicle's Critic's Favorite and "Best of Austin" recipient).  She's conceived, directed and devised new works such as The Pomegranate Woman (National Yiddish Book Center) and Rust and Dust (Emily Dickinson Hall). She has been named Associate Director for Punchkin Repertory Theatre, directed Shrewd Production's Glassheart (Salvage Vanguard Theater), and Punchkin Rep's The Relentless Pursuit of Ice (MoHA). In collaboration with Vortex Repertory's Associate Artistic Director, Rudy Ramirez, she curated Hyde Park Theatre's annual Mi Casa Es Su Teatro, directed Sky Candy Productions adaptation of Cosmicomics at the Long Center, and Vortex Repertory Company's multi-award winning Sing Muse for which she received two B. Iden Payne awards.
She's compelled to productions that are challenging on a multitude of levels, arresting both sensually and emotionally. For example, with Austin's Glass Half Full Theatre she helped realize a new form of puppetry in Once There Were Six Seasons, and as a guest artist for Jawaharlal Nehru University in India she created the highly received piece Shaadi.
Generating change through art is pivotal to Kyle's creative pursuits. She created new pieces with The Arab-Hebrew Theatre and Acco Theatre in Israel and the Palestinian territories dedicated to creating work focused on conflict resolution. Being a Jewish American while the Palestinian and Israeli conflict rages on, she continues to focus her art on this issue as a board member of the Austin Jewish Repertory Theater.
MEET THE CAST OF THE STAGED ADAPTATION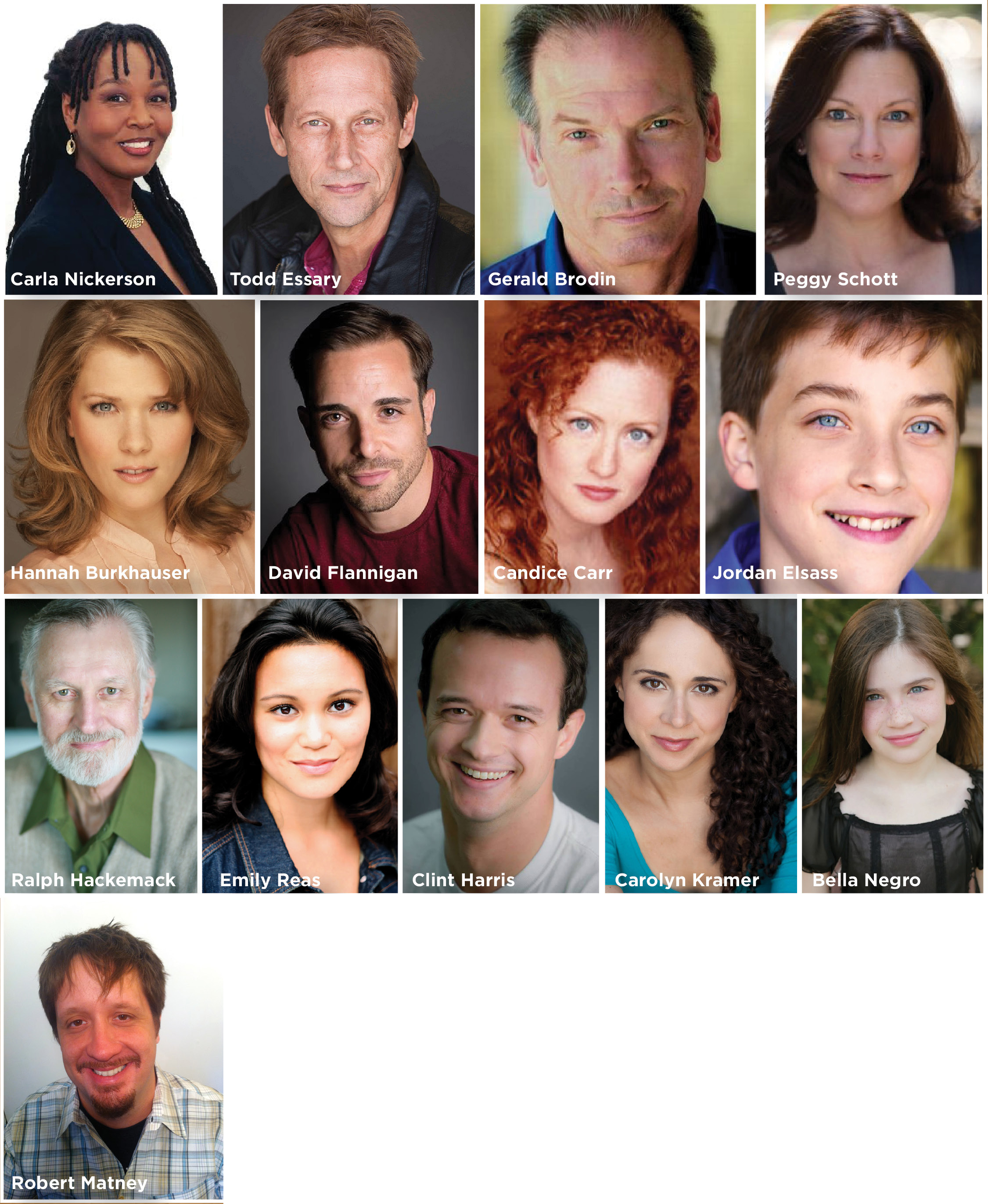 ARTISTS FEATURED IN THE STAGED ADAPTATION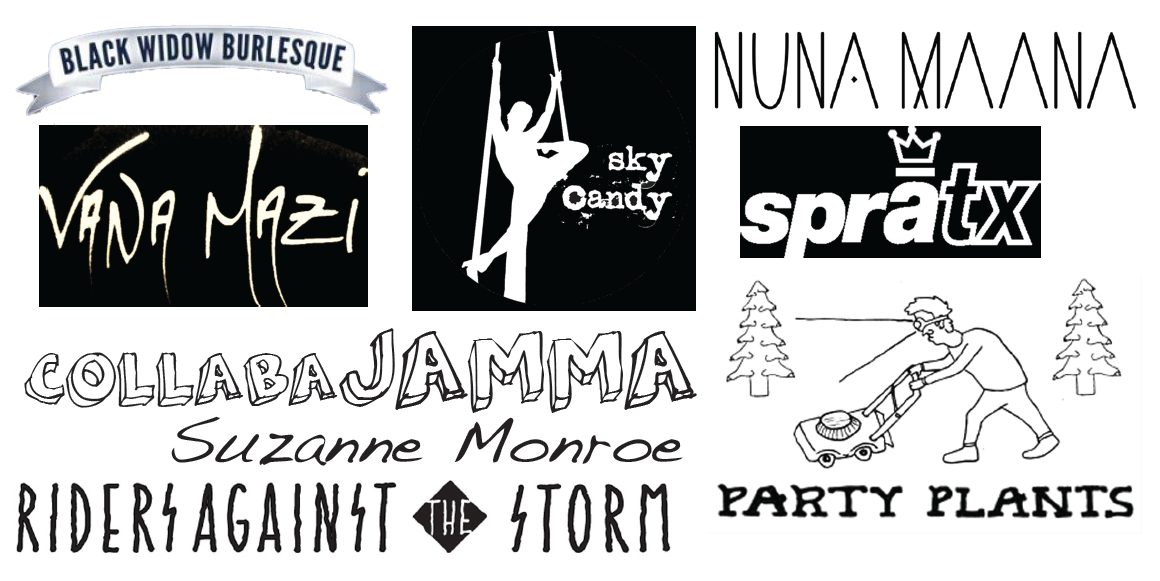 We have been in touch with many other artists, including SORNE, QUIET COMPANY, WOVEN FEET, RAW PAW and partner YOUNG TONGUE, GHOSTLAND OBSERVATORY and many more about The Story of Six Tusks. They were unable to participate in the staged adaptation, but will be working with us on our film production. Other artists we are working to secure rights for in our film include Austin favorites Bob Schneider, Daniel Johnston, Shakey Graves, and much more!
OTHER SPONSORS WE ARE PARTNERING WITH

TEST FOOTAGE